Pads organic
Harley Davidson and Indian Motorcycles Pads organic
€ 13,73(€ 16,61 Incl. tax)

Compare

€ 17,79(€ 21,53 Incl. tax)

Compare

€ 28,71(€ 34,74 Incl. tax)

Compare

€ 21,43(€ 25,93 Incl. tax)

Compare

€ 15,44(€ 18,68 Incl. tax)

Compare

€ 13,-(€ 15,73 Incl. tax)

Compare

€ 13,95(€ 16,88 Incl. tax)

Compare

€ 49,-(€ 59,29 Incl. tax)

Compare

€ 29,30(€ 35,45 Incl. tax)

Compare

€ 12,90(€ 15,61 Incl. tax)

Compare

€ 17,43(€ 21,09 Incl. tax)

Compare

€ 16,40(€ 19,84 Incl. tax)

Compare

- Full line of performance parts -
- The best maintenance possible -
- Minimum order 25 Euro -

EU/TÜV-Approved

€ 26,57(€ 32,15 Incl. tax)

Compare

EU/TÜV-Approved

€ 19,77(€ 23,92 Incl. tax)

Compare

€ 13,07(€ 15,81 Incl. tax)

Compare

EU/TÜV-Approved

€ 18,88(€ 22,84 Incl. tax)

Compare

€ 17,43(€ 21,09 Incl. tax)

Compare

€ 18,53(€ 22,42 Incl. tax)

Compare

€ 25,68(€ 31,07 Incl. tax)

Compare

€ 15,-(€ 18,15 Incl. tax)

Compare

€ 13,07(€ 15,81 Incl. tax)

Compare

EU/TÜV-Approved

€ 19,77(€ 23,92 Incl. tax)

Compare

€ 13,-(€ 15,73 Incl. tax)

Compare

€ 24,22(€ 29,31 Incl. tax)

Compare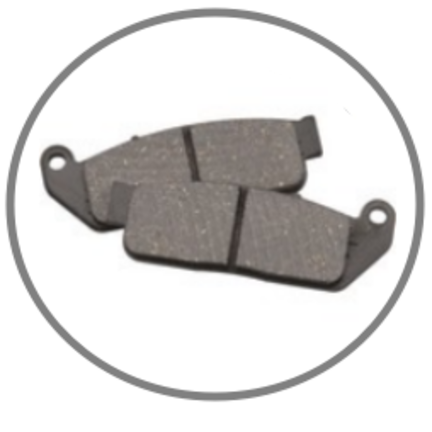 Organic Kevlar ® pads are OEM type replacement brake pads for 1970s and earlier models
Organic Kevlar ® pads are the perfect choice for polished or chromed rotors and Billet Steel Rotors
Asbestos, nickel, and lead free
 
NOTE: If you are using aftermarket billet steel rotors it is recommended you use our Organic-Kevlar ® brake pads to avoid damage to them.
Sintered pads are not recommended for billet steel rotors as the pad material is too aggressive for those rotors
 
 

Organic Pads
Organic pads are made up of fibers and organic material that are bonded together with resin.
 

Pros
-Quieter
-Shorter break-in period
-More initial bite
-Prevent heat buildup
-Pushes heat back into the rotor
-Very good initial bite feel and modulation
 

Cons
-Wear quicker
-Not as good in wet/muddy conditions
-Can glaze over.
-Less power at the ultimate top-end power (sustained high speed DH stuff).
 

use on billet steel rotors

.




Read more
Close