Pads Sintered
Harley Davidson and Indian Motorcycles Pads Sintered
€ 41,-(€ 49,61 Incl. tax)

Compare

EU/TÜV-Approved

€ 26,-(€ 31,46 Incl. tax)

Compare

EU/TÜV-Approved

€ 26,38(€ 31,92 Incl. tax)

Compare

EU/TÜV-Approved

€ 27,66(€ 33,47 Incl. tax)

Compare

€ 20,98(€ 25,39 Incl. tax)

Compare

EU/TÜV-Approved

€ 30,80(€ 37,27 Incl. tax)

Compare

EU/TÜV-Approved

€ 31,-(€ 37,51 Incl. tax)

Compare

EU/TÜV-Approved

€ 28,65(€ 34,67 Incl. tax)

Compare

EU-Approved

€ 41,-(€ 49,61 Incl. tax)

Compare

EU/TÜV-Approved

€ 32,51(€ 39,34 Incl. tax)

Compare

EU/TÜV-Approved

€ 28,97(€ 35,05 Incl. tax)

Compare

EU/TÜV-Approved

€ 27,66(€ 33,47 Incl. tax)

Compare

- Full line of performance parts -
- The best maintenance possible -
- Minimum order 25 Euro -

EU/TÜV-Approved

€ 27,66(€ 33,47 Incl. tax)

Compare

EU/TÜV-Approved

€ 28,23(€ 34,16 Incl. tax)

Compare

€ 41,51(€ 50,23 Incl. tax)

Compare

€ 28,43(€ 34,40 Incl. tax)

Compare

€ 26,82(€ 32,45 Incl. tax)

Compare

€ 13,87(€ 16,78 Incl. tax)

Compare

€ 29,95(€ 36,24 Incl. tax)

Compare

€ 13,-(€ 15,73 Incl. tax)

Compare

€ 29,47(€ 35,66 Incl. tax)

Compare

€ 26,82(€ 32,45 Incl. tax)

Compare

€ 35,52(€ 42,98 Incl. tax)

Compare

€ 36,98(€ 44,75 Incl. tax)

Compare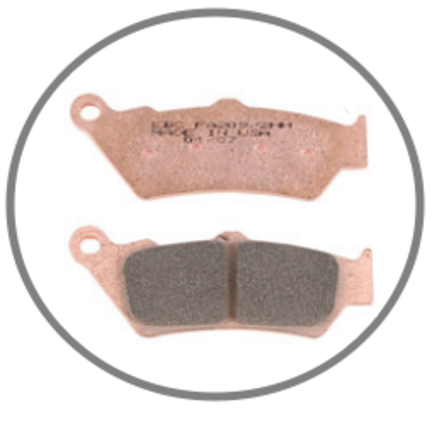 Sintered metal brake pads are the OEM-type replacement pads for most bikes from the late 1970s to the present
Sintered metal brake pads are proudly made in the U.S.A.; second-to-none in their stopping abilities and wear characteristics while still providing excellent reduction in noise and dust.
 
Sintered Pads
Sintered pads are made up of hardened metallic ingredients, which are bound together with pressure and temperature.
 
Pros
-fade at a higher temperature than resin pads
-better performance in wet conditions
-last longer
-they don't glaze over.
 
Cons
-louder
-longer break-in time
-not as much initial bite
-heat is conducted through the caliper, not the rotor
-they lack initial bite feel.

.
Read more
Close