Semi Sintered pads
Harley Davidson and Indian Motorcycles Semi Sintered pads
EU/TÜV-Approved

€ 27,40(€ 33,15 Incl. tax)

Compare

EU/TÜV-Approved

€ 20,89(€ 25,28 Incl. tax)

Compare

EU/TÜV-Approved

€ 30,56(€ 36,98 Incl. tax)

Compare

EU/TÜV-Approved

€ 21,91(€ 26,51 Incl. tax)

Compare

EU/TÜV-Approved

€ 27,40(€ 33,15 Incl. tax)

Compare

EU/TÜV-Approved

€ 21,91(€ 26,51 Incl. tax)

Compare

EU/TÜV-Approved

€ 21,91(€ 26,51 Incl. tax)

Compare

EU/TÜV-Approved

€ 21,91(€ 26,51 Incl. tax)

Compare

EU/TÜV-Approved

€ 21,91(€ 26,51 Incl. tax)

Compare

EU/TÜV-Approved

€ 21,91(€ 26,51 Incl. tax)

Compare

EU/TÜV-Approved

€ 38,19(€ 46,21 Incl. tax)

Compare

EU/TÜV-Approved

€ 20,89(€ 25,28 Incl. tax)

Compare

- Full line of performance parts -
- The best maintenance possible -
- Minimum order 25 Euro -

EU/TÜV-Approved

€ 20,89(€ 25,28 Incl. tax)

Compare

EU/TÜV-Approved

€ 21,91(€ 26,51 Incl. tax)

Compare

EU/TÜV-Approved

€ 20,89(€ 25,28 Incl. tax)

Compare

EU/TÜV-Approved

€ 30,56(€ 36,98 Incl. tax)

Compare

EU/TÜV-Approved

€ 23,18(€ 28,05 Incl. tax)

Compare

EU/TÜV-Approved

€ 43,23(€ 52,31 Incl. tax)

Compare

EU/TÜV-Approved

€ 27,40(€ 33,15 Incl. tax)

Compare

EU/TÜV-Approved

€ 21,91(€ 26,51 Incl. tax)

Compare

EU/TÜV-Approved

€ 26,34(€ 31,87 Incl. tax)

Compare

EU/TÜV-Approved

€ 33,26(€ 40,24 Incl. tax)

Compare

TÜV-Approved

€ 28,45(€ 34,42 Incl. tax)

Compare

EU/TÜV-Approved

€ 21,-(€ 25,41 Incl. tax)

Compare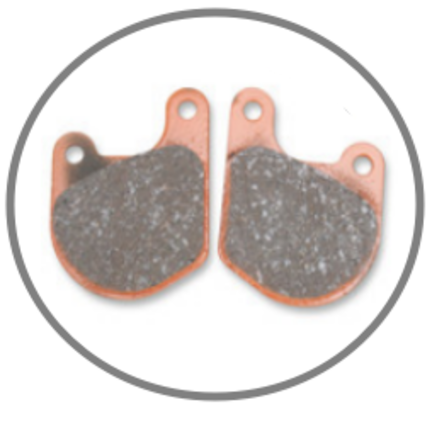 Semi-Sintered V-Pads™ are a new blended Semi-Sintered brake pad that combine the highest qualities of an organic brake pad with the endurance of a sintered equivalent brake pad. The V-Pad™ range have been dyno tested and prove to be longer lasting than other cheap sintered aftermarket brake pads. The Vee brake pad range are designed for the heavy cruiser/streetbike market as a replacement brake pad.
 
Heavy streetbike cruiser brake pad
100% ECO friendly
Can be used to replace organic or sintered
ECE R 90 approved approved and TÜV tested
Organic compound with longevity
Semi-metal pros
Most of the best bits of sintered and organic compounds. They're basically organic pads with sintered stuff added to them.
Good ultimate top-end power.
Good bite feel and modulation.
Good durability.
Semi-metal cons
Can glaze over.
Not all semi-metal compounds are the same ie. different brands will have different sintered-to-organic mix ratios.
Usually a bit more expensive.
.
Read more
Close